www.mares.org.my
MyMARES Mailing List
For OFFICIALLY REGISTERED MARES CLUB MEMBERS ONLY!
Downloads / Links
MARES
SKMM
Activities
Written by MARES Newsdesk
Tuesday, 05 February 2013 23:16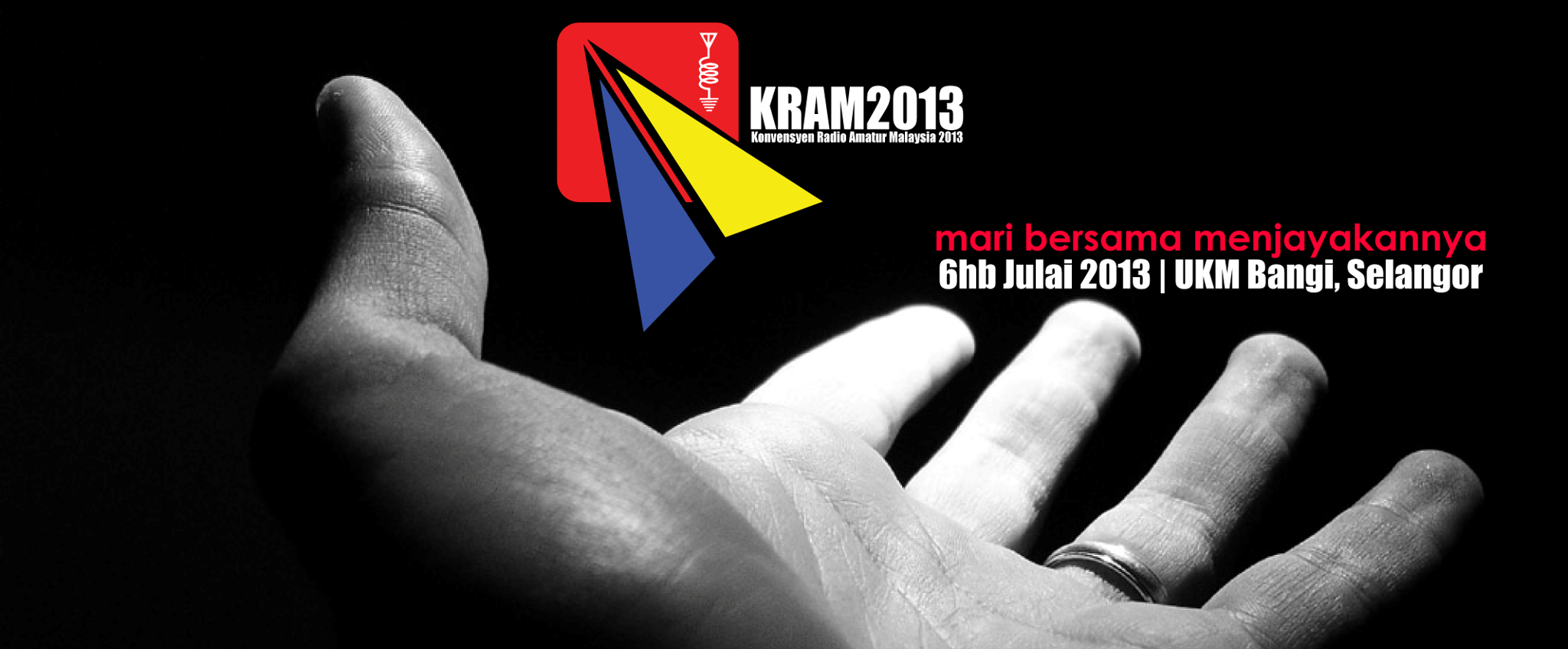 ** Announcement: Change of Date **

Malaysia Amateur Radio Convention 2013 will be held at UKM Bangi, 25 May 2013 6 July 2013. This is the first National Convention of Radio Amateurs. As part of the Convention, participants and and visitors wil be experience a variety of programs including lectures, national meetings and large stage presentations. The national association for ham radio in Malaysia - MARL will be organizing this first convention with target of 1,000 participants and visitors.

More details will be posted soon. Watch out for this space.

?
Last Updated on Wednesday, 19 June 2013 23:07
Written by MARES Newsdesk

Wednesday, 21 November 2012 17:11
Dear All Ham Members,





On behalf of MARES, we would like to welcome all delegates to 40th SEANET 2012, Kuala Lumpur. This event will start from 23rd November 2012 until 27th November 2012. Event will be held at Dynasty Hotel, Kuala Lumpur.

For daily reporting and happenings, visit 40th SEANET Facebook Page below.




For more details on 40th SEANET 2012 Kuala Lumpur, visit www.2012sea.net.

73 de MARES
Host Organization,
40th SEANET 2012
Last Updated on Tuesday, 11 December 2012 20:38

Written by 9W2BBS Fahroe Ibrahim

Sunday, 04 November 2012 22:18
Dear All Amateur Radio Members,



Malaysian Amateur Radio League (MARL), will be organizing 2012 National Field Day , for 24 hours beginning from Saturday, 1st December 2012, 10am until Sunday, 2nd December 2012.

This event will also be held concurrently at a number of location throughout the country. The event Head Quarters will take place at Taman Tasik Jaya, Petaling Jaya,

Selangor

and will be hosted by MARES Malaysia. To view all other locations, kindly click the image below.


2012 National Field Day Location - Nationwide

Frequencies for the National Field Day are as follows:


MARL welcomes all other Amateur Radio groups, clubs and societies, to set up their station at their respective states.

As a reminder, in the spirit of Field Day, ALL participating groups/clubs/society are required to use ONLY BATTERIES OR GENERATOR SET to power up their stations and equipment.

Event Manager for the 2012 National Field Day is Rashid Sidek 9M2YRS (Pak Yob). He can be contacted at This e-mail address is being protected from spambots. You need JavaScript enabled to view it /

019-3317388.



MARES would like to call for all amateur radio members in the country to participate in this event. As the host for HQ location, MARES would like to call for volunteers to assist and participate in this event. Those interested, kindly contact us at This e-mail address is being protected from spambots. You need JavaScript enabled to view it /

012-3022400

. Kindly visit MARES Facebook page or MARL Facebook page for up-to-date information.

We look forward for your participation in the 2012 National Field Day.

73 de MARES

Last Updated on Tuesday, 11 December 2012 20:38

Written by MARES Newsdesk

Sunday, 04 November 2012 20:33
Warga MARES Malaysia yang dihormati,




Dengan sukacitanya dimaklumkan, Projek HF MARES kini telah berjaya mencapai sasaran yang diperlukan. Jumlah kutipan keseluruhan adalah sebanyak

RM5388.00

. Jumlah penderma adalah seramai 53 orang.

Pembelian peralatan HF Yaesu FT-950 telah dilaksanakan pada 6 September 2012, dan peralatan telah dipasang dirumah kelab pada 7 Oktober yang lalu, dengan bantuan beberapa rakan radio amatur.

Buat masa sekarang, MARES sedang mendapatkan braket khas untuk pemasangan tetap radio ini untuk kegunaan ahli-ahli radio amatur. Dijangka braket ini akan disiapkan pada hujung bulan ini.

MARES mengucapkan ribuan terima kasih kepada semua penyumbang yang telah memberikan sumbangan bagi menjayakan projek ini

Kepada yang berminat dan ingin mencuba peralatan ini, sila berhubung dengan

Mutalib 9M2SQL ( This e-mail address is being protected from spambots. You need JavaScript enabled to view it / +60176391632)

untuk sesi penggunaan. Kelas HF juga dijangka akan diadakan dalam masa terdekat.

Projek ini telah mencapai objektifnya untuk membeli FT-950 walupun begitu, projek ini masih dibuka untuk sumbangan bagi melengkapkan station tersebut.

MARES ingin mengucapkan ribuan terima kasih kepada semua dermawan, yang telah sudi menyumbang untuk tabungan ini. Semoga projek ini akan memberi manafaat kepada semua warga MARES Malaysia.

Terima kasih.



73 de MARES





Senarai Penderma



Last Updated on Tuesday, 11 December 2012 20:38

Written by MARES Newsdesk

Wednesday, 05 September 2012 00:56
Assalamualaikum wrt dan Salam Sejahtera,

Sempena Syawal yang mulia ini, Malaysian Amateur Radio League (MARL) dan

MARES Malaysia

akan menganjurkan satu majlis Eyeball Aidil Fitri 2012 bersama, bersempena dengan

Mesyuarat Agung Khas MARL 2012

. Majlis akan diadakan secara Pot Luck.

Semua warga radio amatur dijemput hadir ke sesi

Eyeball Aidil Fitri 2012

ini yang akan diadakan pada:-

Tarikh:

Sabtu, 8 September 2012


Masa:

11:30 AM - 2:00 PM


Lokasi:

Dewan Sivik, Majlis Perbandaran Petaling Jaya,

Jalan Yong Shook Lin, Petaling Jaya, Selangor.


Aturcara majlis
8:30 am - Pendaftaran Mesyuarat Agung Khas MARL
9:30 am - Sesi Mesyuarat Agung Khas MARL 2012
11:30 am - Sesi Eyeball Aidil Fitri 2012
2:00 pm - tamat acara


Untuk maklumat, sila berhubung dengan Setiausaha Kerja MARL , Ashwar 9W2FG (019-3170777 / This e-mail address is being protected from spambots. You need JavaScript enabled to view it ) atau Pen. Setiausaha Kerja MARL,

Iqbal 9M2BAL

(019-9244284 / This e-mail address is being protected from spambots. You need JavaScript enabled to view it ).


Semoga kita dapat mendapat berkat dari acara yang dijalankan ini. Maklumat terkini dan terperinci majlis akan dimaklumkan melalui laman web MARL dan MARES, dan juga di laman Facebook MARL dan MARES.

73 de MARES.

Last Updated on Wednesday, 03 October 2012 11:01
« StartPrev12

3

45678910NextEnd »
Page 3 of 24
MARL News
MALAYSIAN AMATEUR RADIO LEAGUE - MARL / GABUNGAN PERSATUAN RADIO AMATUR MALAYSIA
Membership Status
Example Membership Number: 2103100111
Last DB update: 07 October 2018

Membership fee can be paid by;
- Cash directly to Treasurer, or
- Cheque/Money Order/Postal Order to PERSATUAN PERKHIDMATAN KECEMASAN RADIO AMATUR MALAYSIA, or
- Bank Deposit/Online Payment to BANK ISLAM account 14-041-01-005646-4 (PERSATUAN PERKHIDMATAN KECEMASAN RADIO AMATUR MALAYSIA) and email proof-of-payment to Treasurer.

To download the membership form for membership renewal, surf;
www.mares.org.my >> Downloads / Links >> MARES Membership Form