MyMARES Mailing List
For OFFICIALLY REGISTERED MARES CLUB MEMBERS ONLY!
Downloads / Links
MARES
SKMM
www.mares.org.my
Written by MARES Newsdesk
Monday, 28 March 2016 23:01
Salam Sejahtera / Greetings, 
Ahli-ahli MARES yang dihormati, 
Dengan sukacita, saya memaklumkan perlantikan AJK MARES bagi sesi 2016/2018 seperti berikut:- 
Dear MARES members, 
We would like to announce the new line up for 2016/2018 MARES Malaysia Committee Members as follows:- 
Penasihat MARES / MARES Advisors:
Abdul Rashid Mohd Sultan, 9M2RS 
Abdul Aziz Mohd Noor, 9M2AU 
Mohamad Kamsol Warjan, 9M2MKW 
Mansor A. Bakar, 9W2TTC
Mohd Dahalan Ahmad, 9W2DJ 
Yang Dipertua / President: 
Mohd. Ashwar Abdul Aziz, 9W2FG 
Timbalan Yang Dipertua / Vice-President: 
Abdul Mutalib Omar, 9M2SQL 
Setiausaha / Secretary: 
Fahroradzi Ibrahim, 9W2BBS 
Penolong Setiausaha / Assistant Secretary: 
Farid Mohamed Hanif, 9W2ARD 
Bendahari / Treasurer: 
Hazali Hashim, 9W2ZLH 
Ahli Jawatan Kuasa / Council Members: 
Mohd Azhar Mohd Amin, 9M2USB 
Mohd Rizal Mahmud, 9M2RDX
Mohd Rizal Mohd Said, 9M2RZL
Azizul Rahman Mohd Ghazali, 9W2FD 
Rashid Ahmed Abdul Rahman, 9W2TR 
Wan Mohd Fadzil Wan Ab. Manaff, 9W2WF 
Mazura Muhammad, 9W2MIT 
Amiruddin Mohamed, 9W2AAM
Omar Atan, 9W2MCC
Adzhar Maludin, 9W2FYB 
Audit Dalaman / Internal Audit: 
Ahmad Hasni Mohamed Jalilah, 9M2ABC 
Mazli Shahar Mohamed, 9M2MZT 

Untuk makluman, semua AJK MARES 2016/2018 boleh dihubungi melalui email dialamat 
This e-mail address is being protected from spambots. You need JavaScript enabled to view it e.g. This e-mail address is being protected from spambots. You need JavaScript enabled to view it . 
Ucapan ribuan terima kasih kepada AJK 2014/2016 sebelum ini yang telah banyak 
menyumbangkan tenaga dalam menjayakan semua aktiviti MARES. 
For your information, all the 2016/2018 Committee Members can be contacted via email
This e-mail address is being protected from spambots. You need JavaScript enabled to view it e.g. This e-mail address is being protected from spambots. You need JavaScript enabled to view it . 
We would like to thank the previous 2014/2018 Committee Members for all 
their contributions to MARES during the years. 
Fahroe Ibrahim, 9W2BBS 
Setiausaha / Secretary 
MARES 2016/2018 
Last Updated on Monday, 28 March 2016 23:03
Written by 9W2BBS Fahroe Ibrahim
Thursday, 24 March 2016 10:01
Assalamualaikum dan Salam sejahtera,
Warga MARES yang dihormati,
Sukacita dimaklumkan, laporan Masyuarat Agung Tahunan MARES kali ke 15 tahun 2016, boleh didapati dengan menghantar emel kepada:-
This e-mail address is being protected from spambots. You need JavaScript enabled to view it
Terima kasih dan 73.
Bagi pihak,
MARES Malaysia
Written by 9W2BBS Fahroe Ibrahim
Saturday, 12 March 2016 21:38
Kepada semua warga MARES yang dihormati, Assalamualaikum dan Salam Sejahtera, Makluman Mesyuarat Agung Tahunan (AGM) MARES ke 15 tahun 2016.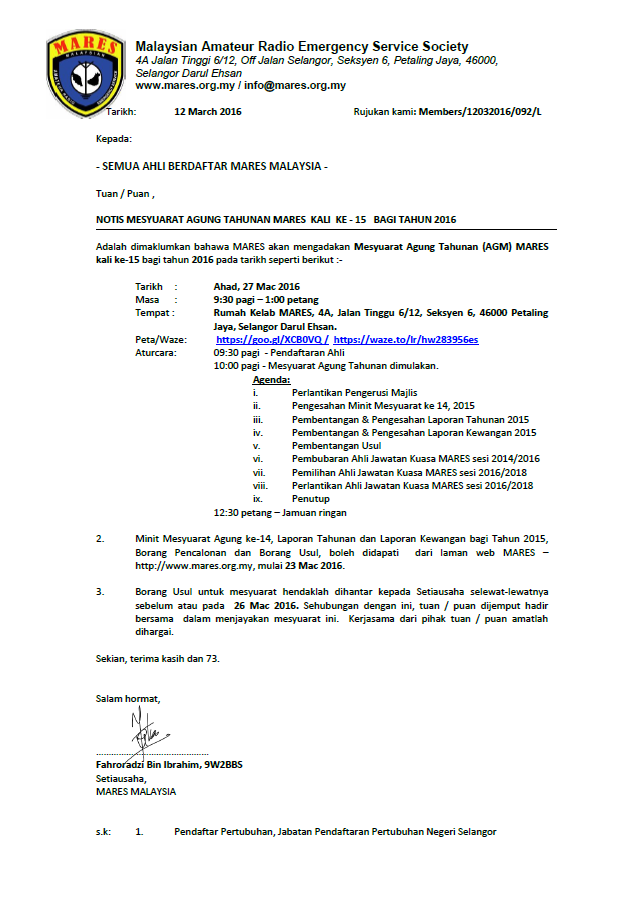 Click image for larger announcement
Last Updated on Saturday, 12 March 2016 22:24
MARL News
MALAYSIAN AMATEUR RADIO LEAGUE - MARL / GABUNGAN PERSATUAN RADIO AMATUR MALAYSIA
Membership Status
Example Membership Number: 2103100111
Last DB update: 09 April 2012

Membership fee can be paid by;
- Cash directly to Treasurer, or
- Cheque/Money Order/Postal Order to PERSATUAN PERKHIDMATAN KECEMASAN RADIO AMATUR MALAYSIA, or
- Bank Deposit/Online Payment to BANK ISLAM account 14-041-01-005646-4 (PERSATUAN PERKHIDMATAN KECEMASAN RADIO AMATUR MALAYSIA) and email proof-of-payment to Treasurer.

To download the membership form for membership renewal, surf;
www.mares.org.my >> Downloads / Links >> MARES Membership Form