www.mares.org.my
MyMARES Mailing List
For OFFICIALLY REGISTERED MARES CLUB MEMBERS ONLY!
Downloads / Links
MARES
SKMM
www.mares.org.my
Written by MARES Newsdesk
Tuesday, 14 April 2015 19:47
Dear MARES Members,
We are pleased to extend the invitation from MARTS, to all MARES members to participate in the EMCOMM GO BOX COMPETITION  and KL FOX 2015. Both event will take place on 9th May 2015 at Taman Tasik Titiwangsa, Kuala Lumpur.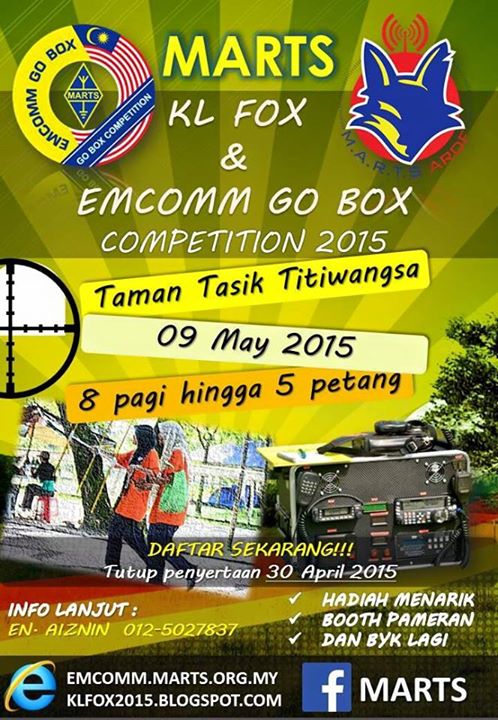 All MARES members are encouraged to participate in this event. 
Registrations and further information can be obtained at the following website:
Good luck to all participants. 
Thank you and 73
de MARES MALAYSIA
Last Updated on Tuesday, 14 April 2015 20:45
Written by 9W2ZLH Hazali Hashim
Monday, 01 December 2014 02:45
Ahli MARES yang dihormati,
Terima kasih kepada anda yang telah memperbaharui keahlian anda untuk tahun 2015. Kerjasama anda adalah sangat dihargai.
Kepada anda yang belum lagi memperbaharui keahlian, anda bolehlah berhubung dengan Fahro 9W2BBS (Setiausaha) atau Hazali 9W2ZLH (Bendahari) untuk menyemak dan menjelaskan bayaran yuran keahlian anda.
Fahro 9W2BBS: 9w2bbs[at]mares.org.my
Hazali 9W2ZLH: 9w2zlh[at]mares.org.my
Yuran keahlian boleh dibayar secara;
- Tunai terus kepada Bendahari, atau
- Cek/Money Order/Postal Order kepada PERSATUAN PERKHIDMATAN KECEMASAN RADIO AMATUR MALAYSIA, atau
- Deposit ke Bank/Pembayaran Online ke akaun BANK ISLAM 14-041-01-005646-4 (PERSATUAN PERKHIDMATAN KECEMASAN RADIO AMATUR MALAYSIA) dan email bukti bayaran kepada Bendahari.
Untuk download membership form untuk pembaharuan keahlian, layari;
www.mares.org.my >> Downloads / Links >> MARES Membership Form
Ribuan terima kasih di atas kerjasama dan sokongan yang diberikan.
73 de MARES
Last Updated on Friday, 12 December 2014 09:04
MARL News
MALAYSIAN AMATEUR RADIO LEAGUE - MARL / GABUNGAN PERSATUAN RADIO AMATUR MALAYSIA
Membership Status
Example Membership Number: 2103100111
Last DB update: 09 April 2012

Membership fee can be paid by;
- Cash directly to Treasurer, or
- Cheque/Money Order/Postal Order to PERSATUAN PERKHIDMATAN KECEMASAN RADIO AMATUR MALAYSIA, or
- Bank Deposit/Online Payment to BANK ISLAM account 14-041-01-005646-4 (PERSATUAN PERKHIDMATAN KECEMASAN RADIO AMATUR MALAYSIA) and email proof-of-payment to Treasurer.

To download the membership form for membership renewal, surf;
www.mares.org.my >> Downloads / Links >> MARES Membership Form